I'm often asked by songwriters if there are any common devices that can be used to help when constructing motifs. Truth be known, there aren't many. Coming up with an interesting and exciting melodic motif is a highly creative and personal part of the songwriting process. However, there are a few tools that a songwriter has at his/her disposal. In this column we'll take a look at two such devices – conjunct and disjunct motion.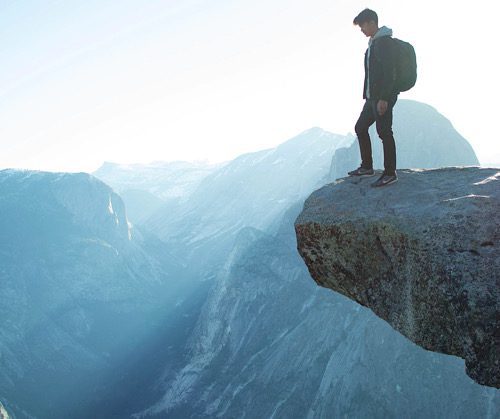 Conjunct motion is smooth scale-wise motion. The melody moves to different destination notes by primarily using the notes of the scale (yes, you really do have to know your scales!). Some examples of well-known songs that use primarily conjunct motion include, "Lean On Me" (songwriter - Withers), "Ghost In This House" (songwriter - Prestwood) and "Too Busy Being In Love" (songwriter - Burr/Shaw).
Disjunct motion is just the opposite. Rather than being smooth, the melody leaps around using primarily chord-wise movement. Some classic songs that use primarily disjunct motion include songs like, "Tonight Tonight" (songwriter - Stephen Sondheim), "Somewhere Over The Rainbow" (songwriter - Howard/Arlen), and "Somewhere Out There" (songwriter - Mann/Weill).

Many songs incorporate both conjunct and disjunct motion. In fact another way to create a contrast between two sections of music is to use mostly conjunct motion in one section and disjunct motion in another. Let's take a look at part of the chorus from the Anne Murray classic, "Could I Have This Dance" co-written by former NSAI president and hall of fame songwriter Waylon Holyfield along with the great Bob House. The chorus to this hit song uses mostly conjunct motion.
Example 1a:
In the first part of the melodic phrase, the melody has a definite destination. It is moving from the word "I" to the word "dance". That's accomplished through mostly scale-wise motion. In this case, we're in the key of A, so the melody travels using the A major scale. In the second part of the melodic phrase, the melody again has a definite destination - the word "life". This time, the melody simply walks down the A major scale from the note D to the destination A.
The verse of this song contrasts the conjunct (smooth) motion of the chorus with primarily disjunct (leaping) movement. The melody leaps around using mostly chord-wise motion to get from one place to another. This contrast alone is enough to make the chorus and verse stand apart from each other.
Example 1b:
From "Could I Have This Dance" © 1980 Bibo Music Publishers (c/o The Welk Music Group) and Tree Publishing Co., Inc. Used by permission.
[Music Stars (782 bytes)] That's all there is to it. Hope to see you on the charts.
Discuss this article in our Music Forum.
About Danny Arena

Danny Arena is a Tony Award nominated composer and professional songwriter instructor. He holds degrees from Rutgers University in both computer science and music composition. He is currently an Associate Professor at Volunteer State Community College in Nashville, a member of the faculty at Vanderbilt University and a columnist for the Nashville Songwriters Association International (NSAI) Newswire and American Songwriter Magazine. In addition to being a guest speaker at the Berklee School of Music, the NSAI Workshops, Belmont University and Vanderbilt University, he has also taught at regional songwriting workshops throughout the U.S. and abroad. He has developed songwriting lessons that have been used by over 3000 members of the NSAI regional workshops worldwide and his articles for American Songwriter Magazine, Musesmuse and Just Plain Folks have reached over 20,000 songwriters. He has been a keynote speaker for the NSAI Symposium, served as a judge in several national songwriting competitions and is a mentor for the songwriting organization Just Plain Folks. He is the co-author of the audio songwriters reference series entitled "The Songwriters Survival Kit". He has worked as a staff songwriter for Curb Magnatone Music Publishing and currently has songs in the musical "Urban Cowboy" which opened on Broadway in March 2003 and was nominated for an Outer Critics Circle Award for Best Musical and a Tony Award for Best Original Score." He is also the co-founder, CEO and one of the main site developers of www.SongU.com, songwriting courses online.
Contributor to and owner of both Songu.com and craftofsongwriting.com.